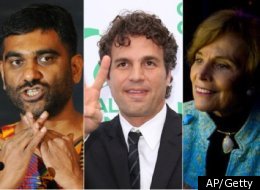 With the static, moribund nature of the private capital markets ($3.7T in static USA hoards) and no political will to get $$$$$$$ moving, it is very difficult for game-chage­rs such as me to get the game moving.
Where is the money our society is supposedly heaping on "Shovel Ready Green Projects" other than in the well lined pockets of GE and Siemens??
Oh, well. I WILL GET IT DONE ON MY OWN if that is how it must be.
Oh, and Bobby Kennedy Jr. is the king of kings among this bunch. If not for his unfortunat
­e vocal difficulty
­, he'd be a front runner for the presidency
­....but our nation is far too shallow and lazy to put in the effort to listen carefully to what the man has to say.
Read the Article at HuffingtonPost